Midscapular Thoracentesis Trainer
The SynAtomy synthetic Midscapular Thoracentesis Trainer has been designed to closely simulate ultrasound guided thoracentesis. Our model has the appropriate basic landmarks and internal anatomy of a patient with a large volume of fluid within the pleural space.
Included Components
Trainer includes foam torso with supportive stand and soft tissue insert. Thoracentesis insert is encased by skin and contain subcutaneous fat, muscular form, ribs, parietal pleura, lung, diaphragm, replaceable pleural fluid, and Pelican Case.
Relevant Skills
Ultrasound guided midscapular thoracentesis, removal of plueral fluid.
Equipment Compatibility
Compatible with all ultrasound units and designed for use with small gauge needles and catheters.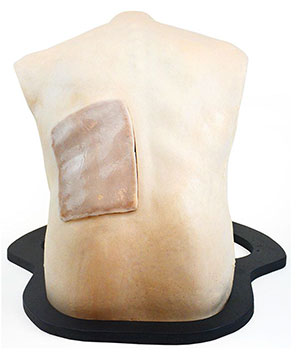 OVER 35 YEARS OF SERVICE
Providing insight, selection, installation, and ongoing support of the latest educational and career technology.
Request a Quote
Learn More About SynDaver Labs
For more information or to contact Buckeye Educational Systems, your Authorized SynDaver Labs Reseller, call 800.522.0460 or email info@buckeye-edu.com