Liver
Our SynDaver liver models are used in the SynDaver Synthetic Human product line and are also available as standalone models. The liver is made from SynTissue, which has been validated to have comparable tensile modulus, abrasion resistance, penetration force, coefficient of friction and thermal conductivity responses when tested under the same physical conditions as the live tissue being simulated.
SynTissue synthetic human tissues are made from salt, water, and fiber, and feature the world's most realistic tactility.
Organ Features
Skinned outer shell with lobed structure. This organ is also available with primary arterial and venous trunks, complete biliary system and a variety of pathologies.
Typical Uses
These organs are used in the SynDaver Synthetic Human product line. They are also incorporated into complex model systems for liver transplant training and biliary stent testing.
Imaging Equipment
Compatible with all known imaging equipment including MRI, CT, fluoroscopy and ultrasound.
Surgical Equipment
Compatible with all known surgical devices including lasers, RF ablation, bipolar, monopolar and harmonic devices.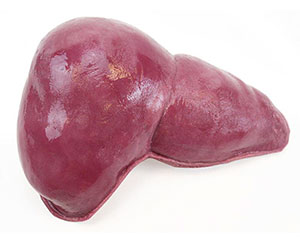 Additional Information
Weight: 5 lbs.
Dimensions: 9 x 9 x 4 in
Organ System: Gastrointestinal System

OVER 35 YEARS OF SERVICE
Providing insight, selection, installation, and ongoing support of the latest educational and career technology.
Request a Quote
Learn More About SynDaver Labs
For more information or to contact Buckeye Educational Systems, your Authorized SynDaver Labs Reseller, call 800.522.0460 or email info@buckeye-edu.com