LC40 Laser Cutter
Beaming with Possibilities
Dremel has entered unheard territory with the LC40: a powerful, Desktop Laser Cutter that is easy-to-use, consistent, and most importantly, safe. Unlock full creative potential by cutting, scoring, engraving, and/or gray scaling a wide variety of materials effortlessly.
Hardware
Like a perfect partner in any good relationship, the LC40 hardware is a great listener of its software. This synchronous connection gives you the precise and clear cuts you want.
Software
The Dremel Laser Software breaks printing down into three steps: Place, Prepare, and Print. Take the guess work out of the biggest laser cutting challenge.
Material Library is the dummy-proof way to configure print settings. Select the material type & thickness, and the software will load the preset print settings. Just click print.
Camera Capture the print bed to know exactly where you are cutting and use every inch of material. You can even use this feature to cut and engrave hand-drawn projects.
Auto Array saves you time and material by duplicating the same piece throughout your workplace with one click.
Quick Tools like rotate, scale, transform and snap allow easy, accurate adjustments to prints.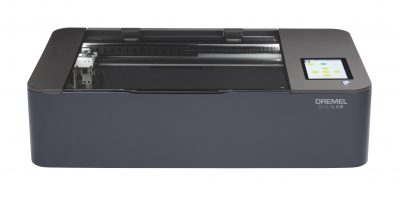 Easy Printing Process
Relax, it's a Dremel!
Prepare Material: Place materials into the print bed, up to 20″ x 12″ in size.
Select Material on Software: Select your material type and thickness in the Dremel Software.
Click Print: Watch the magic happen.
Designed to Work with Any Filtration Configuration
During operation, laser cutters generate exhaust that may be hazardous to health. Always operate the Dremel LC40 Laser Cutter with proper exhaust ventilation and/or filtration, and always operate in a well-ventilated area. Choose the right version for your needs. Click here to get a better understanding of your filtration needs.

OVER 35 YEARS OF SERVICE
Providing insight, selection, installation, and ongoing support of the latest educational and career technology.
Request a Quote
Learn More About Dremel
For more information or to contact Buckeye Educational Systems, your Authorized Dremel Reseller, call 800.522.0460 or email info@buckeye-edu.com