HVAC Curriculum and TU-805 Trainer
iConnect Training Basic Refrigeration Fundamentals
Online curriculum, hands-on equipment, and resources to fit your flexible classroom.
The iConnect TU-805 Mobile Table-Top Air Conditioning and Refrigeration Trainer demonstrates basic refrigeration and air conditioning principles in a compact size, perfect for classroom or mobile training. Accompanying HVAC Curriculum was written specifically for this trainer and included iManifold 900C System Analyzer kit for real-time system performance and analysis.
iConnect TU-805 Features:
Lightweight design for easy, on-the-go training; weighing only 80lbs, this unit can be easily moved, transported, and stored
Variable fan speed controls for evaporator and condenser load adjustment
Sight glasses at inlet and outlet of evaporator and condenser constructed of explosion-proof, tie-bolt design
Conditions of refrigerant and oil can be ovserved under fluid and gas stages of operation
Evaporator and condenser copper tube coils with aluminum fins
Drip pan located under the evaporator for condensation drain
Includes operation manual
HVAC Curriculum
1 – Practice Safe Work Habits
OSHA Regulations
Safe refrigerant handling practices
Safe use of a portable fire extinguisher
2 – Demonstrate Knowledge of Refrigeration Science
Matter & Energy
Thermodynamics
P/T Relationships
Refrigerants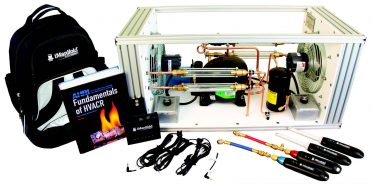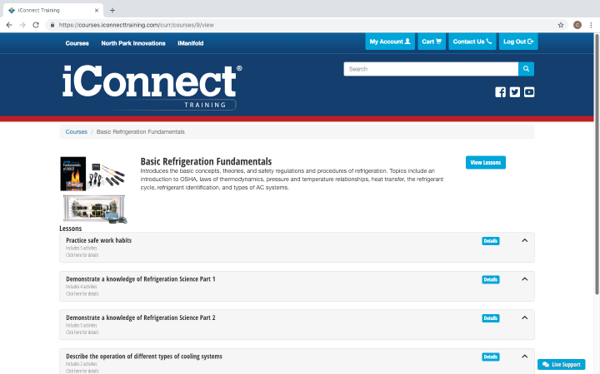 3 – Comfort Conditions and Types of Cooling Systems
Comfort Conditions
Identifying Cooling Systems
4 – Explain the Operation of the Vapor Compression Cycle
Vapor compression cycle operation
Different refrigeration system applications

OVER 35 YEARS OF SERVICE
Providing insight, selection, installation, and ongoing support of the latest educational and career technology.
Request a Quote
Learn More About iConnect
For more information or to contact Buckeye Educational Systems, your Authorized iConnect Reseller, call 800.522.0460 or email info@buckeye-edu.com