Human/Animal Simulators & Organ Models
Create hands-on labs and prepare students for certification exams
The zSpace for Health Careers suite provides a set of tools to provide self study experiences, hands-on laboratory dissections, and ECG certification preparation. Students understand more deeply with 3D
interactive experiences and their engagement soars. Included in the suite: Human Anatomy Atlas by Visible
Body, VIVED Anatomy, and ECG by Vizitech.
zSpace technology is being used in clinical medicine today
Surgeons at Stanford Hospital in Palo Alto, CA are using zSpace technology and EchoPixel's True 3D Viewer for surgical planning. From separating conjoined twins to performing less invasive cardiac surgery, visualizing anatomy in 3D has helped surgeons reduce incision size, infection risk, and recovery time. Incorporating zSpace learning experiences will better prepare graduates for careers in health and medicine.
Applications
Human Anatomy Atlas
Explore human body systems, over 4,600 anatomical structures, musculoskeletal animations, and thousands of quizzes.
Virtual ECG
Students practice ECG electrode placement, understand relationships between electrode placement and the ECG strip, and study abnormal ECGs.
VIVED Anatomy
Dry lab dissection made easy, engaging and interactive. Design and save lab sessions and create quiz questions to support your curriculum.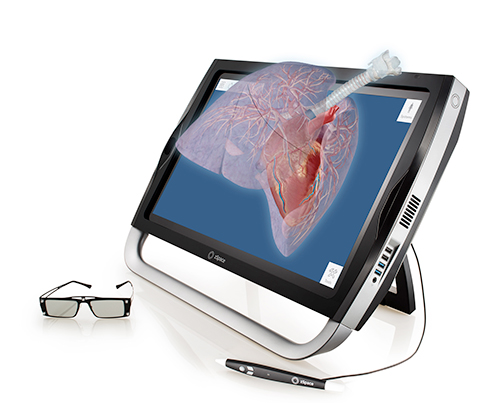 VIVED Volume
A tool for viewing and manipulating medical imaging scans. Users can explore demo volumes or create new volumes from their DICOM libraries.

OVER 35 YEARS OF SERVICE
Providing insight, selection, installation, and ongoing support of the latest educational and career technology.
Request a Quote
Learn More About zSpace
For more information or to contact Buckeye Educational Systems, your Authorized zSpace Reseller, call 800.522.0460 or email info@buckeye-edu.com