CNC Piranha
Although featuring an entry level price, the CNC Piranha is every bit as capable as its cousin, the CNC Shark, and it also includes a convenient touch-screen interface! Its compact 12" x 18" table makes it perfect for smaller-scale projects like carvings, plaques, ornamental boxes and precision parts machined from wood, soft metals, or plastics, all at a fraction of the price of a full-sized CNC. With its 3D carving capability, including a 3D models library, you can carve expensive corbels, cut intricate inlays and engravings.
The CNC Piranha has such incredible accuracy that you can even engrave custom circuit boards with it. The creative potential is unlimited and the entire machine can easily fit on one end of your bench. Just design your work with the included VCarve Desktop V8 Design software on a PC computer with USB 2.0 port (not included), then simply save the program directly to a USB flash drive, plug it into the Pendant, select your file and hit the run button. No need to have your computer subjected to a dusty shop environment.
Features Summary
XYZ travel: 12″ x 13″ x 3″
Overall dimensions: 19-1/2″ W x 20-1/2″ L x 18″ H
Aluminum interlocking slotted table track for highly customizable clamping
Includes VCarve Desktop V8 Design software
Vector Art 3D Sampler Pack
Color Touch Screen pendant controller system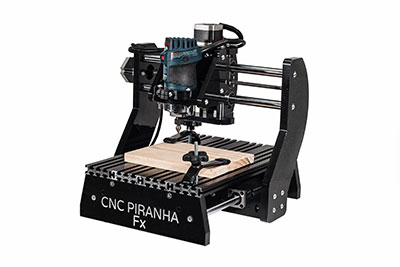 OVER 35 YEARS OF SERVICE
Providing insight, selection, installation, and ongoing support of the latest educational and career technology.
Request a Quote
Learn More About Next Wave Automation
For more information or to contact Buckeye Educational Systems, your Authorized Next Wave Automation Reseller, call 800.522.0460 or email info@buckeye-edu.com