3D40-EDU
The Dremel DigiLab 3D40 3D Printer- EDU is the printer for the educator that continues the Dremel heritage of reliability and ease-of-use while bringing the convenience of Wi-Fi connectivity and mobile interaction to the classroom. This printer is packed with features to assist the educator and includes the accessories and tools needed to get started in the world of 3D building including extra filament and a USB flash drive with curriculum-based models.
With a build capacity larger than the Dremel 3D20, you can build bigger projects inside the fully enclosed, illuminated workspace with a cooling system that prevents object warping and keeps your builds precise. Design and edit your models with the included Dremel Digilab Sliver based on Cura, and control the building process using a full-color touch-screen. And when the build is done, retrieve your object using the convenient removable build platform.
Features
Quick and easy set-up with Quik Level guided 2-point semi-auto leveling, for fast and accurate calibration
New Dremel preparation build software with added features to ensure successful builds
Innovate extruder with active filament monitoring protects against failed builds
Expanded build capacity for larger projects – 10 in. x 6 in. x 6.7 in. (255 mm x 155 mm x 170 mm)
Excellent safety and support – highly rated customer service, one year warranty and UL certified
Advanced motion control minimizes noise
Fully enclosed for protected building
On-board software enables stand-alone operation
100 micron build resolution for high quality building
Full color touch screen and onboard software enable standalone operation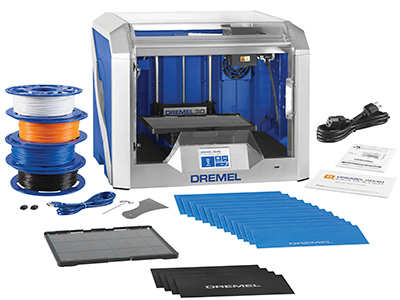 Dimensions
Height: 16 in
Width: 20.25 in
Max. Build Width: 6.7 in
Max. Build Height: 6 in
Min. Layer Thickness / Resolution: 100 microns
Filament Diameter: 1.75 mm
Voltage: 110 – 120V

OVER 35 YEARS OF SERVICE
Providing insight, selection, installation, and ongoing support of the latest educational and career technology.
Request a Quote
Learn More About Dremel
For more information or to contact Buckeye Educational Systems, your Authorized Dremel Reseller, call 800.522.0460 or email info@buckeye-edu.com