Industry Credentials
An industry credential is issued by a third party with authoritative power and is proof of an individual's qualification or competence in a given subject. Possessing a credential not only helps one to prove competency and capability in a given field, but also demonstrates to one's community and employers that the individual is competent, properly trained and equipped to carry out his or her duties. To sit for a credential exam, an individual must possess certain knowledge & skill requirements. Credentials serve as verification that a professional has achieved a baseline level of competency in his or her subject matter. With credentialed staff members, employers are assured of having a workforce of employees that are capable of handling whatever challenges their job responsibilities present.
Buckeye Educational Systems works with world leading organizations to prepare students for credentialing and is a process in which an industry validates, based upon predetermined standards, an individual's knowledge, and qualifications. An industry credential serves to verify that an individual has achieved a level of professional competence in their area of training and preparation.
As a training service provider, Buckeye Educational Systems partner credentials are nationally recognized and validate an individual's specialized knowledge and experience for entry level through advanced technical level. Studying for an industry credential keeps one up to date on the latest developments and demonstrates one's commitment to life-long learning.
Newest Updates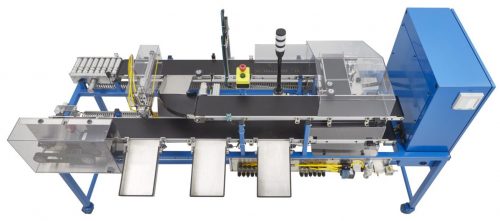 SKILL BOSS LOGISTICS
Amatrol's Skill Boss Logistics offers performance-based assessment for evaluating the skill levels and competencies of future supply chain automation technicians. This system is a working automated distribution system that performs real-world operations, such as package tracking, automatic package queuing and priority release, electro-pneumatic sorting, and much more!
Our Industry Credentials Offering Includes: